Details

Category: Martinov dvor
Written by Martinov dvor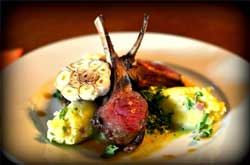 Enjoy cozy atmosphere of our restaurant created by the warmth of the traditional fireplace placed in the middle of the room. We offer you comfortable seating for 50 guests as well as we offer a private lounge for various events - family parties or business meeting.

Our sunny terrace offers a beatiful view over the city Zilina. It woult be our pleasure to serve you your favorite drink of coffee on our terrace.

Our menu offers ou culinary specialties of the traditional local cuisine carefully prepared by our experienced chefs.
You can choose variety of items from our witty menu card such as: " something from the Sty", " Somethig from the Hen house or a Barn".

Salads for lean figure as offered as well as meals to gain weight :-)
"Steak Martinov dvor" or "Hunter Daniel´s Goulash" for at least 10 guys sounds as good as it tastes.
| | |
| --- | --- |
| OPENNING HOURS: | |
| Monday - Sunday: | CLOSED |
In the case of events, family celebrations, weddings, meetings, the opening hours may change as agreed.
Current menu of drinks and foods in Slovak and English language: Click here.


We accept reservations for various events, celebrations, family celebrations, christenings, weddings of more than 10 people.